How to Manage Your Allergies
This article is intended to provide practical 'self help' information for patients suffering from allergies and then discuss the advanced allergy care available when over-the-counter measures are not helpful.
While the springtime is usually associated with our severe 'Juniper Flu' and the other Spring tree pollen allergies, the Fall allergy season is usually associated with grass and weed pollination. Plus, the late Fall has a second Juniper/Mountain Cedar pollination.
While our local pollens have remained the same, there has been a change in what is available to help us manage our allergies. I want to take you through a list of what is readily available as 'Over the Counter' (OTC) medications with the addition of several of the prescription medications.
Step 1: 'Self Help' For Your Allergies
Note: Since most of these are OTC products, they can be used for all ages. Please pay attention to the dosing instructions!!!
AVOIDANCE: practical measures!!!
Keep your cats & dogs out of the bedroom… if you have allergic reactions to your animals, this will help decrease your baseline allergic reactions.
Dust Mite avoidance… if you have allergic reactions to dust mites then clean your mattress pad and sheets once per week on a 'hot water setting'.
Pollen avoidance is much more difficult, however if you launder your clothes and shower after outside activities you will decrease your exposure to pollen. Also, wipe your animals off with a damp rag when they come in from outside… plus, they'll love the attention!
MEDICATIONS: there are a number of very effective OTC products.
Saline rinses… either a Neti Pot or Neil Med Sinus Rinse ® kit (fig 1). We usually recommend twice per day rinses… especially before using the nasal steroid sprays. Saline rinses alone will provide significant relief.
Use ½ teaspoon of sea salt and ¼ teaspoon baking soda in 8 oz (1 cup) of warm water. (Sea salt and baking soda are both available at the grocery store.)
Microwave your Neti Pot or sinus rinse kit for about 90 seconds every couple of days to decrease bacterial contamination.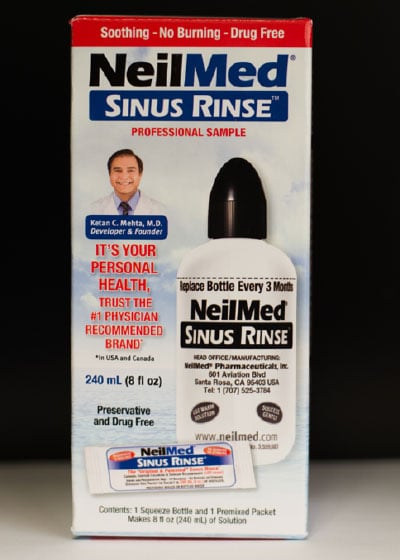 Nasal steroid sprays: our first choice to add to the nasal saline rinses.
Over the Counter (OTC): Nasacort ® (triamcinolone), Flonase ® (fluticasone propionate), and Rhinocort ® (budesonide) are great OTC products that decrease allergic tissue inflammation. (fig 2) If you get nose bleeds with these products – a common side effect in our dry climate – use your finger to apply about a pea sized amount of Aquaphor ® to the inside of your nose along the midline structure. This is your nasal septum and it also usually where most nosebleeds occur… by the way, using the saline rinses followed by Aquaphor ® is the first step in preventing nosebleeds!!! These OTC sprays run about $20/month.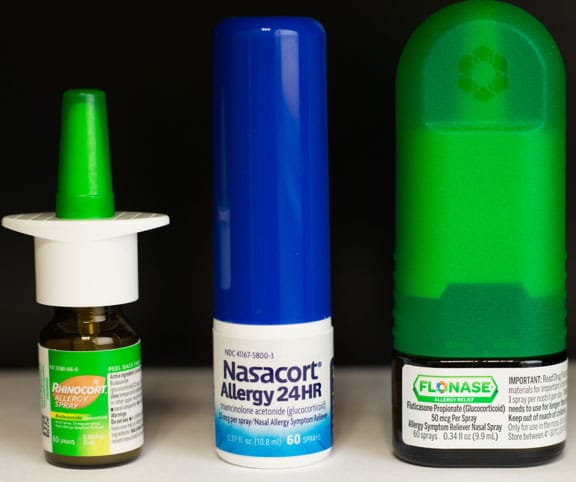 Prescription sprays: there are a number of prescription nasal steroid sprays that provide the same decrease in tissue inflammation as the OTC meds. Usually, the prescription nasal steroid sprays are marketed as providing an additional advantage, such as being either 'non-liquid' or 'easier to use'. (Examples: Q-Nasl ® (beclomethasone), Nasonex ® (mometasone), Omnaris ®/Zetonna ®, (ciclesonide), Flunisolide (generic), Veramyst ® (fluticasone furoate) The basic issue with these prescription medications will be financial… your insurance company's formulary may make them really expensive to use.
Antihistamines: can be used as a 'first choice' medication or as an 'add on' to the nasal saline rinses and nasal steroid sprays. Sometimes these medications can make you sleepy… if they do, take before bedtime.
Oral antihistamines: Zyrtec ® (cetirizine), Allegra ® (fexofenadine), Claritin ® (loratidine), Zyxal ® (levocetirizine). (fig 3) Personally, we use and recommend the generic equivalent for each of these… almost all grocery stores, pharmacies and 'big box stores' will carry these generic equivalents. (There are a number of other antihistamine products… however, most of them will make you sleepy and tired. )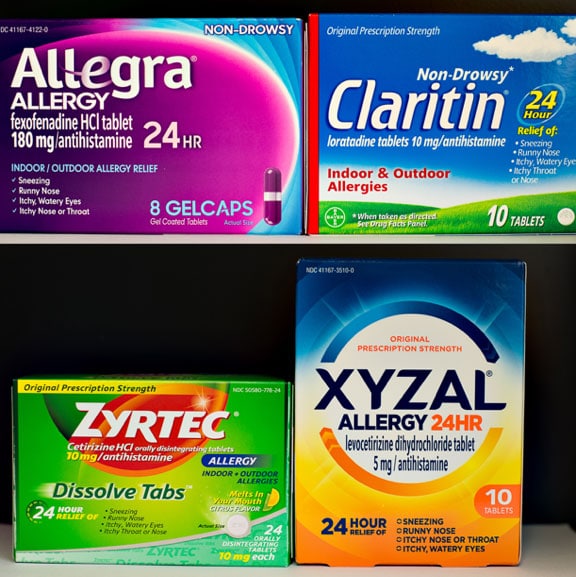 Nasal antihistamines: these are all prescription medications. Astepro ® (azelastine) & Patanase ® (olopatadine). We've had good results with either of these nose sprays. (Azelastine does have a generic equivalent!)
Eye drops: Patanol ® and Pazeo ® (olopatadine), Optivar ® (azelastine). Great 'add-on' meds to decrease the eye symptoms. Again, your insurance formulary costs can be really steep for these meds. There are some OTC antihistamine eyedrops as well… we just don't think they work quite as well.
'Systemic Steroids': While these drugs provide significant relief to allergy symptoms, we really need to stress the risk/benefit balance… these are prescription medications for good reason. Yes, we prescribe both oral prednisone and 'the steroid shot' – Kenalog ® (triamcinolone). However, there is always a discussion of the risk issues with these meds. In fact, we require a consent form for Kenalog ®. Here's the list of issues with systemic (oral/shot) steroids:
Increased risk of infection.
Worsening of diabetes.
Osteoporosis or the bone resorption.
Worsening of high blood pressure.
Emotional changes including sleeplessness and depression.
Muscle wasting.
Cataracts.
Impaired wound healing.
Hip fracture due to loss of blood supply to the hip joint.
Other Meds: there are a variety of other OTC and prescription medications that may be helpful with individual patients. We're not going to go into every detail in this short summary.
While you could start with the OTC products – let's say a 'random combination' of nasal saline rinses, fluticasone and cetirizine – we think the 'best combo' is using the Neil Med Sinus Rinse ® followed the generic equivalent of azelastine (nasal antihistamine) and one of the nasal steroid sprays. (There is a prescription nose spray that combines azelastine and fluticasone… Dymista ®). If these combinations don't work… we will almost always recommend allergy testing and then immunotherapy if the allergy testing supports the diagnosis of allergies causing the patient's symptoms. (BTW… the cost of our 'random combination' is about $40-50/month.)
Step 2: ENT Clinic Visit
OK… you've tried the Over the Counter products. Nothing works… what's the next step? If your insurance plan requires a PCP (Primary Care) referral, we would first see your PCP for consideration of the prescription medications mentioned above. Or, if your insurance plan doesn't require a referral, we would be delighted to help!
Initial Office Visit… your physician will want to understand the severity of your allergy symptoms and whether you are suffering some of the complications of uncontrolled allergic reactions such as asthma and recurring sinusitis. We will then go through a standard list of 'allergy risk factors':
Seasonal pollen exposures (spring, summer, fall, winter).
Animal exposures… cat, dog, horse, etc.
Home environment… mold exposures and heating/cooling system exposures.
Food reactions… many of the foods we eat 'cross react' with certain pollens.
Asthma, sinusitis and migraine problems… these may indicate real problems with your allergy control.
Your physician will also perform a physical exam looking for evidence of allergic stimulation, bacterial sinusitis, deviation of the nasal septum, nasal polyps, and asthma. They may also recommend three additional studies to evaluate your nasal/sinus anatomy and lung function.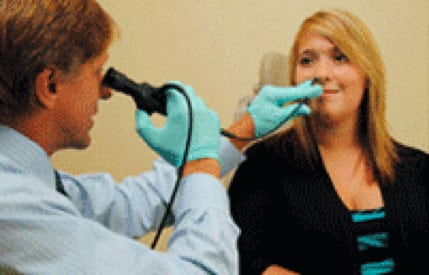 Nasal Endoscopy: using a sterile fiberoptic endoscope, your physician may want to get a more detailed view of your nasal passages and throat structures. (fig 4) We commonly will use this procedure to correctly diagnose patients coming to the office with a history of recurring sinus infections or facial pain not responding to the usual medications… such as multiple courses of antibiotics.
Sinus CT Scan: a low dose, cone beam CT scanner used to provide additional diagnostic information in patients suffering from sinusitis, nasal polyps and facial pain.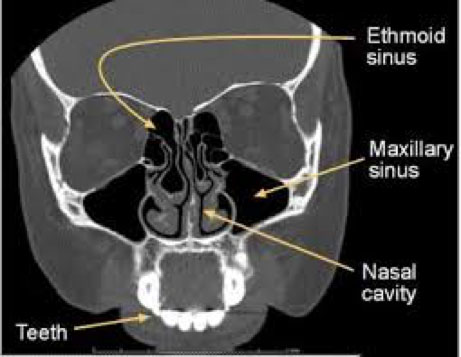 Spirometry: a breathing study to look at your lung function. This is used to help diagnose and better manage your asthma.
Toward the end of your initial office visit we will discuss a number of options – avoidance measures, additional OTC and prescription medications, immunotherapy and maybe even surgical procedures for patients with well-defined abnormalities such as a deviated nasal septum or nasal polyps. For the sake of discussion, let's assume your exam is pretty much normal, you've tried all of the OTC measures we discussed above, and you really just want to 'deal with the problem'.
So, at the end of the visit we may recommend you undergo allergy testing… usually either skin testing or IGE Rast testing of your blood.